House For Sale In Kitchener
A wide range of homes for sale in Kitchener
A city in the province of Ontario, Kitchener is one of the three cities that make up the regional municipality of Waterloo. It is the fourth largest city in Ontario, and the tenth-largest in the country, having a population of roughly about 300,000. The real estate market in Kitchener is where you must invest at present. If you are looking to buy, sell, or invest, this is the right time, as the demand for Kitchener real estate is on the rise. This region has one of the most competitive real estate markets in the country, with sales above average. A lot of people from Toronto come to Kitchener and invest in property. Royal Canadian Realty has the knowledge and experience to not only help buyers to find their dream home but also help individuals in Kitchener who are looking to sell their property at a fair price. For further information on Kitchener real estate, please do not hesitate to get in touch with our brokers today.
Houses for sale in Kitchener located close to top-class healthcare and educational institutions
The city has many public high schools, including the Kitchener-Waterloo Collegiate and Vocational School, founded in 1855; it is the oldest school in Kitchener. Other notable schools and colleges include Eastwood Collegiate Institute, Grand River Collegiate Institute, Huron Heights Secondary School, St. Mary's High School, Resurrection Catholic Secondary School to name a few. In addition to schools and universities, Kitchener real estate also includes several hospitals to ensure the safety and security of its residents. The Grand River Hospital, St. Mary's General Hospital etc., are some of the popular hospitals in the city and are highly ranked by the residents. So, if you are looking for Kitchener condos for sale, reasonably priced Kitchener apartments, look no further than the professionals at Royal Canadian Realty to help with all your property needs.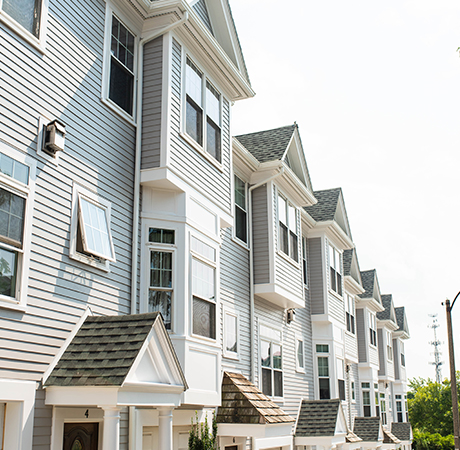 Affordable apartments for sale in Kitchener close to several recreational activities
The Kitchener-Waterloo symphony is one of the most notable recreational spots for the residents as it performs over 222 concerts annually. It draws on over 90,000 people, including employing a number of artists in the Kitchener region. The oldest and the most famous park in Kitchener is Victoria Park, located in the heart of downtown; many events are held in this park throughout the year. There are also many ponds, fountains, rock ghettos and waterfalls, making it a popular location for wedding photos in the summertime. The park also has a secure community trail system which is controlled and run by the city. There is also a bike park that includes a pump-track section, four-cross section, and free-ride course. Additionally, there is also a dedicated play area for the residents, including basketball courts, volleyball courts, a dog park, etc., for the residents to enjoy. These recreational activities convince many individuals who are looking to buy Kitchener apartments or houses for sale in Kitchener. With the city's property market looking to take shape and generate a lot of interest in the years to come, now is the perfect time to invest in Kitchener real estate.
Kitchener Condos for sale with the public transport system within reach
The city prides itself on its proactive public transportation system. The Kitchener region is close to many major highways that easily connect the residents to Niagara, Stratford, and the Greater Toronto area. There are plenty of ways to get around the city; residents can commute using the intercity transportation services to and from the Kitchener region by rail and bus. The Grand River Transit (GRT) is the city's public bus service that stretches across the cities of Cambridge, Waterloo, and Kitchener, including other surrounding townships. The ION rapid bus service ferries commuters between the cities of Cambridge and Kitchener. In 2018, the ION light rail service was launched by the government of Kitchener. It is a 19-kilometre route from the Conestoga Mall transit terminal in Waterloo to the Fairview Park mall transit terminal in Kitchener with has around nineteen stops in between. With the ION light rail service, GRT riders can transfer between bus and train services for free. If you are environmentally conscious and look to play your part in reducing carbon emission, carpooling in Kitchener can be arranged through the Travel-Wise Program.
So, if you are looking for homes for sale in Kitchener or apartments for sale in Kitchener that are closely situated to the city's public transport system, give Royal Canadian Realty a call today and discuss your property needs with our expert brokerage team.
We don't sell a variety of properties; we all buy properties in Kitchener too!
Here at Royal Canadian Realty, we have a wealth of experience in helping clients find their dream homes and purchase properties, ensuring the seller gets a fair price on their property. Our brokers have the experience and the knowledge on Kitchener real estate to help sellers get the best deal on their homes. You can rest assured; we will find the right buyer for your home and ensure you get a fair value that you are happy with. We do not add any hidden charges, and we pride ourselves on our transparency. So, if you are looking to sell your home or looking for Kitchener condos for sale, please do not hesitate to give our team a call today to discuss your property requirements.
For further enquiries about our property management services or to find out more details on Kitchener real estate, our team will be more than happy to assist you with your property needs. From homes for sale in Kitchener to a wide range of Kitchener condos for sale, including apartments for sale in Kitchener, we can help. To book an appointment, give us a call today at 905-364-0727. We are based in Mississauga, and we offer our real estate services to clients throughout Canada.